TESTIMONIALS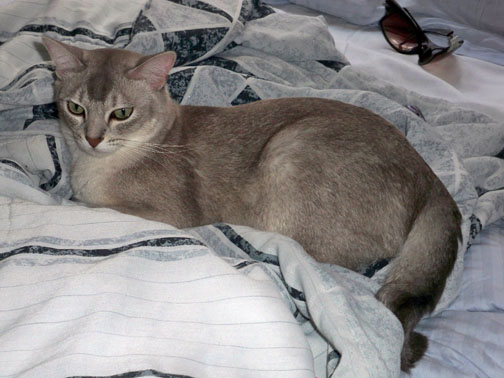 Dear Mila, Just wanted to send you an update on Sebastian (aka: Audi). He has grown into a beautiful and loving boy! Everyone who meets him falls in love with him..he has such a winning personality! He follows me everywhere and is my personal sleeping heating pad :) I am considering adding to the family because I love him so much...we will see. :) Everyone here is doing great, and I want to send you the newest picture of Sebastian napping. I never would have thought he'd win my heart over to the degree that he has! He's my special kitty who always gives as much love as he receives! He even likes to groom my face when I am sleeping! He is still quite vocal and talks to me as soon as I get home from teaching school. Thought you'd enjoy checking out the pic :)
--- Becky S.
---

I live in Renton, WA, near Seattle, and am not related to Rick & Mila in any way. I have two Siamese cats aged 7 and 6.5. About 1.5 years ago I was thinking that I wanted to get a couple more Siamese kittens... they're actually quite hard to find. Then I absolutely fell in love with a picture of a Red European Burmese on Rick and Mila's site named Inferno. I then discovered that he and his brother Irish Coffee, a blue, were both available, and bought them both, just in case the Siamese didn't take to a new kitten. These two boys were born 7/13/08. Their father is Hot Chocolate Bugz of Sacred Spirit, and their mother is Fortunae Filius Ilse of Sacred Spirit. They have grown up to be even more beautiful, and continue to be incredibly playful. They are very sweet tempered, and LOVE to interact with people. They are always following me around to see what's up. They are VERY physical, and as kittens are absolutely fearless. They've both been neutered now, and are a little bit more subdued, but even more loving, if that is possible. The Siamese are still somewhat standoffish, but that has to do with them being Siamese, not because of the Burmese. The Burmese want to be friends, but the Siamese apparently prefer not to relate to those "below" them :O) I love my Burmese so much, that I got another kitten (Cream European Burmese) from Rick and Mila that was born 6/6/09 named Sunapee. His dad is also Bugz and mother is Tigerlily of Sacred Spirit. I was originally going to get another Siamese kitten at the same time and see if I could get them to bond from youth. That Siamese kitten died before I received him... so I stopped at 5 cats. The older Burmese adopted the new baby as their own, and all three bathe each other and often sleep together. The kitten has put the two older Burmese through a second childhood. The Burmese kittens are crazy, goofy, loving, silly, and very physical. They think that they're people like us, and want to interact. They talk to me, when spoken to, but are not noisy or troublesome. I woke up this morning, and all three were sleeping on my bed on top of me. I highly recommend Sacred Spirit cattery. The cats were and are perfectly healthy. I always take my cats to my veterinarian when I first get them to baseline them. We do a giardia (poop) test at that time. I also do the optional tests like EKG and blood work. The kittens have always been entirely clear of problems, and never even had fleas, like other less reputable breeders often carry. Rick and Mila are trustworthy, and obviously interact with the cats, cuz they can tell you the personality of each and every kitten.


--- Richard N.



---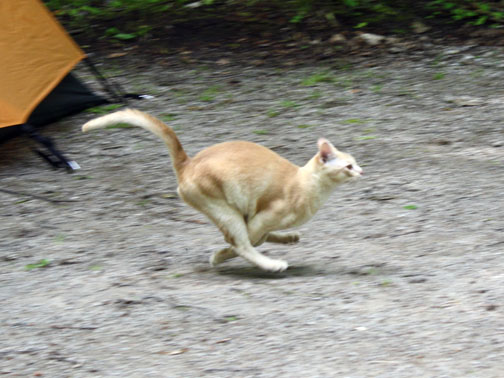 I cannot thank you enough for allowing me to share my life with such a wonderful purr creature, now known as Vova. He is such a good boy, who loves to cuddle, give kisses, and is stubborn about always being in the same room as I am. Most of the time it is very calming to be around him, he is a very relaxed little fellow, he even loves meditating with me - he plops with his head in my lap and quietly sits with eyes half open, it is quite remarkable to witness. Vova is a true adventurer, he already went camping with my partner and I and loved connecting with nature, climbing trees, chasing chipmunks, eating mosquitoes... under supervision of course, and he does really well in a car, looking out the window or falling asleep in my arms. He is a furry 'mommy's boy' who is very loving and is so deeply loved. I hope to get a brother for him, hopefully in the near future. Thank you again for such a wonderful darling boy who is spoiled completely rotten, in every way!
--- Kristina A.
---



I purchased a kitten named Brown Bear Furry Faces from you in December of 2003. I named him TAZ after the Looney Tunes Character because he is a brown devil. Taz has grown up to be a wonderful cat. He is healthy and has been castrated as agreed upon. I thought you might like to see a few pictures of him as an adult cat. He is the center of my household. He is a very adventurous and vocal cat. He enjoys the run of the house but prefers to rest on his window perch and look out the window, or sit on one of the chairs on the screened in porch in the warmer months. He also loves my waterbed; he climbs right in under the covers for a warm nap. I love TAZ very much, thank you for bringing us together.
--- Christopher J. Gumone
---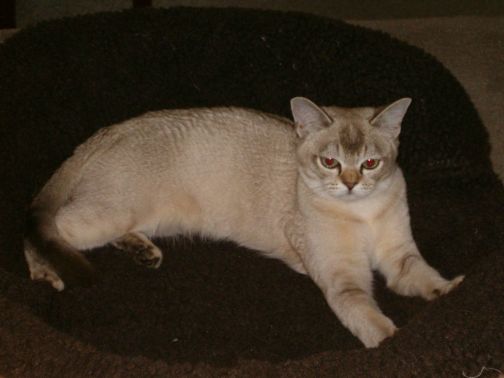 I just had to write you a note to let you know about the Burmilla kitten we acquired from you in November. J-Lo has a new nameЕ..we named her Jellylorum after the character in УCatsФ. Most of the time she is simply УJellyФ to us. She has acclimated to our home very quickly, even accepting and being comfortable with our dog. When Jelly returned from an overnight visit to our vet, she and our dog actually touched noses! She is very affectionate, which we just love. Nothing is better on these cold Idaho nights than having a cat curled up on your lap. And a lap is one of her favorite places to be. She loves to УhelpФ me work on the computer and is either on the computer desk watching the screen or in my lap purring! She is also very inquisitive. Many times we have had to go around our house opening closet doors to find her after she slips in to investigate and gets closed inside. Jelly is a delightful kitten and has certainly become a wonderful addition to our family. Thank you!
--- Sharon K. Snyder
---
I purchased two Oriental Shorthairs from Sacred Spirit Cattery. It is always best to get them in pairs because they are so affectionate towards each other and acquire a lot of attention from owners. In other words when you or your spouse is not around they have a playmate. Mr. Denny walked me through how to pay online and shipped both cats via airplane to Alabama. Napoleon and Sasha; formerly Tiger, one male and one female. They were purchased not for breed but to be part of our family. All questions were answered and Sacred Spirit really cares about there cats giving continuing service even after the purchase. I owned an oriental shorthair before and loved him but he lacked the structure and companionship that only a cattery can provide. I want to thank Sacred Spirit for putting their love and attention to these beautiful creatures. you have my full permission to post this online and by the way if you are worried about paperwork, that was handled appropriately too. Thanks.
--- Kevin and Ashley
---

Hello Mila and Rick. Tristan has arrived and is more wonderful than I could have possibly imagined!!! The girls at the Alaska Airline baggage claim said that he was purring the whole time. He slept a little on the ride home. He has eaten a whole can of Fancy Feast Chicken (la di da) Florentine already. We want to make a good impression on him. Baron (alias Harry, the Bear Boy, the Care Bear) wants nothing to do with him (yet) and Gabby is following him around as he explores. I love his voice. (He's got kind of an Eartha Kitt thing going on there) So sweet... I could just go on and on. I just can't thank you enough for him. I am so lucky to have found you all. We will send info and pictures soon.


--- Mary and Joe Nievez



---

Hi Rick,Just a note to thank you for our kitten. She is great, smart, healthy, beautiful, and gets along great with our dogs, and other cats. We are both so happy that we found you guys, and would recommend your cats to anyone who asks. Thanks again.


--- Ray Schiff



---

Dear Mila and Rick, The kittens arrived in wonderful condition. I was surprised that these two little babies would be so clean and alert after an approximate 9 hour travel time. Their nails were perfectly clipped - they were plump and shiny - it was obvious these kittens came from an outstanding cattery. What lucky cats you have. I will pass your names on to anybody and everybody who might be looking for a kitty companion. Thank you so much. We will spend many years trying to live up to your high standards. White Rose was eager to come out and stretch her legs. She was even more beautiful than her picture on your website. Your pictures are fabulous but truly they don't do the kittens justice. She didn't act in the least bit shy but went right to making herself at home. Wrangler, with his "hootie" eyes, walked out and then picked a spot to sit and look his new environment over. I swear if we had ceiling tiles he would have sat and counted each and every one of them. He didn't miss anything. Rose immediately made friends with Grace and they played and played. Grace is thrilled just as I knew she would be. My Vet was equally as impressed with the good health and obvious excellent care you have given these two babies.Both of them were given a clean bill of health. My Vet suggests we give them a few weeks before spaying and neutering. I will let you know when it is complete. In another few days we will start introducing the kittens to the dogs but we don't anticipate too much of a problem. They both seem very stable and not easily frightened. . Jack and I are so grateful that we located your website. I cannot express how delighted we are with these two kittens.


--- Linda and Jack, Little Grace, Mr. Snuggles, Wrangler, My sweet Rose, and six of the craziest Yorkies in Alabama



---

We got Vittorio! He's the most beautiful cat we ever seen! He was a bit scared at first but he's use to us now. Very Curious. We made safeguards around the house for him and everything so far is good. He's going to have the best of the best in food and everything else. We'll send pictures very soon. Thanks so much!


--- Hermann and Tegia



---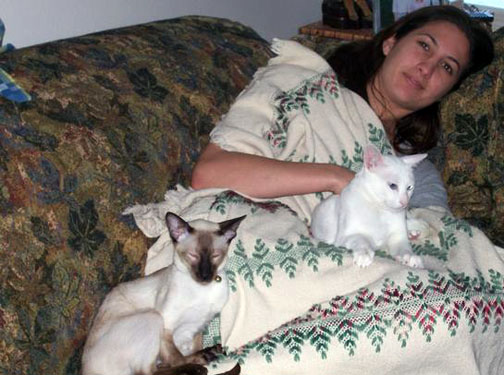 I just wanted to let you all know that Harry has adapted well to his new home and we love him so much!!! Henri and Harry have bonded so well! After a week adjustment period, Harry would cry for Henri at nights. Henri sleeps curled up by me most nights and always has. Henri would get up and go sleep with Harry in the living room in the cozy bed. Harry's also become quite attached to us as well. He's now a lap kitty with both of us. He does tend to be more attached to Lee, but that's qu ite alright. If I'm awake working at the computer I have to scoot back from the desk because Henri and Harry both want to curl up in my lap! It's quite entertaining. On another note, Harry is quite the Houdini! I can't kee p a collar on that boy! He also is great at breaking into the towels closet in the bathroom and hiding for a little nap. Of course Henri always finds him, but we have to look all over the house. We couldn't be happier wit h Harry! Thank you so much for allowing us to add him to our family!
--- Andi
---

Wow!!! We love our kittens. You guys did an amazing job raising these guys. You raise great cats. They are all so friendly, they love to cuddle up with you. The kids are so happy. And thanks for your daughter bring ing them down to us. We really appreciate it. It's nice to have a house full of cats again.


--- Carrie



---
We love to hear about it when our cats go to such great homes!